World Wide Web Animated GIF
As you plan your schedule for the BPD Conference, be sure to include some technology sessions in your plans. There is a full day of Technology sessions on Friday at the University of Pittsburgh, including sessions on use of technology in the following CSWE curriculum areas: policy, practice, values and ethics, field, and diversity. Additional sessions on Friday focus on the use of classroom tools such as Powerpoint and Blackboard. There are also two technology sessions planned for the Hotel. To assist you in your planning, here is a complete list of Technology Sessions as currently listed in the Conference Program.





University of Pittsburgh - Friday
Time: 8:00 a.m. - 9:45 a.m.
Session 200A - The Use of WebCT and Internet Sources for Teaching Social Policy
Session 200B - Using Technology for the Instruction of Social Service Policies and Services

Time: 10:00 a.m. - 11:45 a.m.
Session 200C - Using Technology for the Instruction of Social Work Values and Ethics
Session 200D - Using Technology in Teaching Community Organizing: Building Bridges Across the Digital Divide


Time: 12 Noon - 1:45 p.m.
Session 200E - An Experiential, Multimedia Approach to Teaching Diversity
Session 200F - Using Technology in Building Bridges of Understanding in Human Diversity

Time: 2:00 p.m. - 3:45 p.m.
Session 200G - Using the World Wide Web to Build Bridges Across Cultures and Life Spans
Session 200H - To PowerPoint or Not to PowerPoint? That is the Question

Time: 4:00 p.m. - 5:00 p.m.
Session 200I - Building Bridges on the Information Highway: Using Blackboard to Help Students Access Information
Session 200J - Electrifying the Field Seminar: On-line Dscussion Boards as a Supplement the Integrative Senior Seminar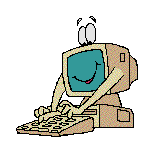 Typing Computer
Saturday Technology Sessions - At the Hotel
10:45 am - 12:15 pm - Session 321 - Using Technology to Incorporate Populations-at-Risk into the BSW Curriculum - Stirlings 3
1:30 - 2:30 pm pm - Session 346 - Computer Technology in the Classroom: A Roller Coaster Ride of Thrills and Spills - Kings Terrace

Additional details are in the online program at the BPD Website. See you in Pittsburgh!