World Wide Web Animated GIF
There has been much discussion of the digital divide: the technology "haves" and "have nots". Social work consumers, and even some of our students, are likely to be classified among the "have nots". In community organizing, the internet offers new resources as well as new challenges. This article will explore some of these resources and opportunities that the internet offers to community organizers and to those of us who teach community organizing.
The resource material is organized into the following categories:
· Studying a community
· Free organizing resources
· Funding information on federal grants, foundations, and corporations
· Federal legislative contacts
· Government documents online
· Examples of web-based community organizing

It can be found on the web, complete with links to each listed site, at:
http://agencyweb.org/teachingco/
Listserv


For those interested in exchanging their experiences
in using technology in teaching community organizing,
I have established a listserv.


Please email me if you would like to join that list:


Click on this link to email me at: caroljwilliams@worldnet.att.net
Web Sites Useful in Teaching/Doing Community Organizing
Studying the Community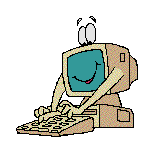 Typing Computer
You can click on each of the links below to view the sites. Use your browser's "back" button to return to BPD Update Online.
Community Geography - http://www.mapquest.com
State Websites - http://www.state.nj.us/
(http://www.state.??.us/) Substitute your state's abbreviation for ??
New Jersey Municipal Web Sites - http://www.state.nj.us/localgov.htm
New Jersey Municipal Directory - Index of New Jersey Municipal Websites - http://www.cityconnections.com//muni/muniview.html
New Jersey State Library - http://www.njstatelib.org/
Cyber Reference Desk: Cyber Reference Desk - http://www.njstatelib.org/cyberdesk/
(You can substitute your state library for New Jersey's state library.)
American Factfinder (United States Census Data) - http://factfinder.census.gov/servlet/BasicFactsServlet