Marquessa Brown, DSW,
BA Social Work Program Director

This last spring I asked Marquessa Brown to reflect for the BPD Update on the murders that haunted Gallaudet University, and how the BSW Program helped heal wounds. Today, her words are more meaningful and relevant than either of us could have guessed at the time. - Ed.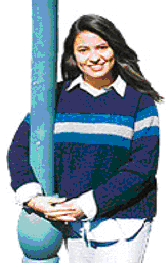 Marilyn Fernandez, Gallaudet Social Work Student
GALLAUDET UNIVERSITY, THE ONLY LIBERAL ARTS university in the world designed exclusively for deaf and hard of hearing persons, received initial accreditation for its baccalaureate social work program in 1976. The primary mission of the program is the preparation of deaf and hard of hearing students for professional practice at an entry level. Since initial accreditation more than 300 students have received a baccalaureate degree in social work. Graduates have entered such fields of practice as rehabilitation, mental health, and community organization and many have completed their MSW or other graduate degrees.

Students offer many reasons for selecting social work as a major. For some the choice is based on their experiences with helping professionals having limited ability to effectively communicate using American Sign Language (ASL) and a wish to provide social services to deaf and hard of hearing individuals in the native language of the Deaf community. Others identify social workers who have served as role models and express an interest in similarly assisting individuals and families by entering the profession. As in many baccalaureate social work programs, there are also students who select the major because they are concerned about people and their well-being. Regardless of the rationale for choosing social work as a major, all express a wish to make a difference in the lives of deaf and hard of hearing people.
Students and faculty, both deaf, hard of hearing, and hearing are proficient in the use of ASL with its hand shapes, facial expressions and body movements that are central to a signed language. This proficiency creates an accessible learning environment without the use of interpreters. Direct communication in the classroom augmented with the use of power point, transparencies, and handouts allow students to express opinions, challenge the views of peers, participate in learning activities and clarify course content. All major classes include readings related to deafness and students in their native language, ASL, engage in discourse that addresses social injustice and the experiences of discrimination in the Deaf community. Often personal experiences or those of others in the Deaf community are ardently discussed as they relate to such issues as limitations for upward mobility among deaf professionals, poverty, inadequacy of mental health services, and society's view of deafness as a disability rather than a culture.

Learning in the larger society, outside the gates of the University, frequently requires interpreters for the purposes of communication. For internships and in practice settings such as nursing homes, correctional facilities, and community organizations, interpreters are often used to facilitate communication between agency staff, clients, and students. Agency staff and clients having little or no knowledge about the correct use of interpreters rely on students to guide them through the process. Social work majors explain with pride and skill the role of an interpreter and advise those who are unfamiliar with the interpreting process to: 1) make eye contact and speak directly with the deaf person, 2) direct questions and comments to the deaf person rather than the interpreter whose sole purpose is to provide communication access, and 3) assure turn taking in group meetings because the interpreter cannot interpret multiple or overlapping conversations.

Tragedy Strikes the Campus
ON SEPTEMBER 28, 2000 the usual academic and professional training focus of the social work program were disrupted by the tragic murder of Eric Plunkett, a freshman. Although most social work majors are juniors and seniors and have minimal contact with first year students, all were saddened by the brutal slaying. Following the murder, students and program faculty attended university wide meetings with representatives of the D.C. Metropolitan Police Department to receive updates on the progress of the investigation and to ask questions in an effort to obtain assurances that Gallaudet was a safe place. However, in spite of guarantees of safety many students living in dormitories were panicked and fearful. Several juniors and seniors in the major, as well as a few that were employed as resident assistants (RA), actively supported students through the crisis by encouraging them to seek counseling at the university mental health counseling center; arranging transportation to the airport for those who wished to go home; and permitting groups of students to sleep in their dorm rooms or apartments off campus if they were uncomfortable remaining in their own rooms. While there were majors who offered support to peers, there were also those who were negatively affected by the murder and found it difficult to concentrate on their studies or attend class. The Department of Social Work responded to its majors expressions of fear and anxiety by creating a supportive environment where they could discuss their concerns and eat pizza with the faculty during the noon hour. Students were also given flexibility with the submission of course assignments and class attendance requirements. Additionally, program faculty that were licensed independent social work practitioners in the District of Columbia and carried liability insurance volunteered at the mental health counseling center.

As the investigation of Eric's murder unfolded there was speculation that the slaying had been a hate crime because the victim was gay. The assumption heightened the gay community's sense of discomfort and the university organized forums for dialogue among students, faculty, and staff in an effort to address anti-gay sentiments. To further address the concerns of the gay community, members of the Department of Social Work also completed training supported by the Sexual Minority Youth Assistance League and the department was designated a safe place for sexual minorities. Additionally, the Social Work Association for Gay, Lesbian, Bisexual Transgendered, and Transsexual Students initiated a peer mentoring program.

Five days after Eric Plunkett's body was discovered, the District of Columbia's police department arrested Thomas Minch, also a university freshman. The suspect was released the following day and left the university. With the departure of Minch to his home in New Hampshire students were relieved but dismayed by the turn of events, and campus life began to return to normal. Social work majors regained an academic focus, caught up on their course work, and gave consideration to participating in program activities.

To everyone's astonishment another freshman, Benjamin Varner, was stabbed at least 19 times and found dead on February 3rd in the same dormitory where Eric Plunkett had resided. The campus community at large realized that Minch could not have committed the crime and the culprit remained in their midst. Students were immediately vacated from Cogswell, the resident hall where both murders occurred. The quick nature of the move from the dormitory prevented several social work students from gathering their books and other personal items. Program faculty however remained sensitive to the situation and gave extensions on assignments as needed. The mental health counseling center was again deluged and licensed social work faculty volunteered their services. Faculty also agreed to remain in the dorms overnight with students, if called upon, and majors assumed a leadership role for organizing an evening vigil in memory of the slain students.

On February 14th, less than 2 weeks after the murder of Benjamin Varner, another freshman Joseph Mesa Jr. was charged and confessed to killing both students. Following the arrest of Messa Jr. social work majors expressed feelings of sadness and embarrassment because a member of the close knit Deaf community had committed such a gruesome and senseless crime. Though disheartened by the loss of three fellow students, Eric Plunkett, Benjamin Varner, and Joseph Mesa Jr.,the baccalaureate program's majors successfully progressed through the academic year. Ten graduated (three with honors) and three were accepted to graduate schools. Another student became the first deaf BA social work student representative to the Metropolitan Washington D.C. Chapter of the National Association of Social Workers and several participated in lobbying efforts for passage of legislation to establish an Office for Deaf and Hard of Hearing for the state of Maryland (House Bill 1189). The juniors completed interviews for senior internships and many will be the first deaf baccalaureate social work intern in their agency. Female majors have been invited to join Alpha Kappa Theta Sorority for Women in Social Work and plan to host the organization's meeting that will include female social work majors from other area colleges and universities.

Despite the tragedies of the 2000-2001 academic year and the profound sadness and fear experienced by the student body at-large, the undergraduate social work students survived the crisis. They adhered to the educational and learning expectations of faculty, remained committed to their professional and career goals, and grew wiser and more assured as a result.