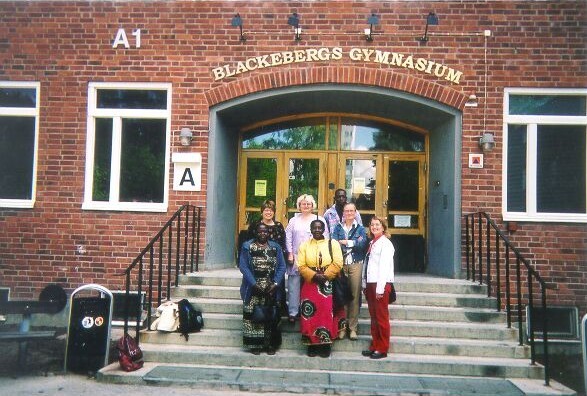 Group Photo
How did it happen? A month ago I didn't own a passport and had never been out of the country. Now here I was on a plane bound for Stockholm being served Brie and warm bread. (Obviously I had died and gone to a Scandinavian heaven.) Back on the ground, I found myself trying to figure out which one of the passport lines I was suppose to be in---of course I picked the wrong one.


Stockholm is built on 14 islands and surrounded by medieval royal buildings alongside modern architecture. It is the home of the Nobel Prize and the archipelago of 24,000 islands is just waiting to be explored. How did this happen and what was I doing in Stockholm? This was the site of the Second International School Social Work conference. Moreover, it was the ambition and dream of two MSW students. With the support and encouragement of their field instructor it became a reality.

It all began with Amie Anger and Joy Wawrznyiak, first year MSW students placed at Rose Park elementary with Joyce Kelen for their internships. Joyce and I are both active in the NASW, School Social Work Council and the Western Alliance of School Social Work. Together we have presented at several professional conferences on a variety of school social work subjects. Of course, we were aware of the International Conference in Sweden, however both the time and cost made it prohibitive for us to attend. Students, on the other hand, do not know the meaning of the word. "can't."

Amie and Joy immediately went to work. They met with Daphne Maramaldi, Director of International Education at the College of Social Work, to see if she had any ideas of how they could attend this conference. Sure enough, Daphne was full of ideas and enthusiastic support. She was convinced that this was able to be accomplished. The students soon realized that some funding was available through the graduate school for students who are presenting at a conference. Of course that meant submitting a proposal and moreover "finding matching funds." They met the challenge and combined with support from the graduate school Dean, they had the funding. The next thing I knew, I was sitting in Sweden looking at Amie and Joy on the stage of the auditorium in front of a professional group of school social workers from all over the world, and explaining to them what they had learned in their practica working with the refugee populations at Rose Park Elementary School. The social workers attending the conference represented 17 different countries including Japan, China, Ghana, Sri Lanka, Australia, Mongolia, and Eastern and Western Europe.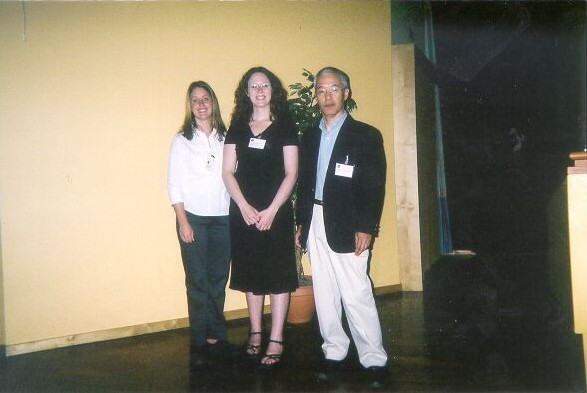 Joy, Amie, and Elizaburo
Amazingly, two of the social worker that we met were our own alumni. Linda Azure, Wolf Point, Montana, presented a workshop entitled, "American Indian Children in the School System in the United States." The next surprise occurred when I attended Elizaburo Yamashita's workshop entitled "Problems Addressed by School Children and the Coping Methods in Japan." Elizaburo captured the attention of the audience as he explained that he was the first school social worker in Japan. He began his career as a medical social worker, but soon became alarmed and concerned about the growing incidences of violence in the school system in Japan. He shared his frustration with an American friend he had made many years ago, while his friend was in Japan serving an LDS mission. Although Elizaburo never joined the church, he remained long time friends with the missionary and now both were professional social workers. Elizaburo was unfamiliar with school social work; it did not exist in Japan. Nevertheless, he listened intently to his friend describe a model that presented some hope for the future. Soon he was at the University of Utah, College of Social Work learning the model from Dr. Marge Edwards. I thought my ears were deceiving me. Was it possible that I had traveled all this way and in front of me was alum of the University of Utah? Elizaburo went on to describe how he returned to Japan and submitted his proposal for school social work to the government. It was accepted and the government funded a pilot project. Elizaburo was the first school social worker in Japan, and now is President of the School Social Work Association of Japan. After the workshop, I spent the rest of the day with Elizaburo, class of 1985, and updated him on his alma mater.

The rest of the conference included a great diversity of topics. In an environment that is experiencing tremendous societal transitions, Estonia is dealing with having to construct school social work services for the first time. From Mohammed Al-Garni, we learned about the impact of the family structure and family function factors on high school students in Saudi Arabia. Children witnessing domestic violence and its' effects on child adjustment, was the focus of a study conducted by Mi Sook Cho from the Department of Social Welfare at Sahmyook University in South Korea. The political and economical crises in Argentina have forced school social workers to re-create their roles. As the number of people experiencing poverty increased, the schools in Buenos Aires responded by turning its pedagogical objectives into social assistants objectives. School social workers re-created their roles to assist populations to develop social nets to help one another. New Zealand presented the outcomes of a collaborative program developed between the Department of Child Youth and Family Services and the schools that provided a successful framework for partnership focused on improving child well being. It enabled educators and department workers to functions as a team focused on supporting families. It became clear, that regardless of whether you were from Texas or Finland, everyone understood the power of the words we heard from Ester B.A. Mahama of Ghana. "Throughout history children and youth have suffered as a result of the decisions made, actions taken, in which they themselves had little or no part at all."

As our week came to an end, the students and I felt like we had traveled the world and made life long friends. Certainly our worlds would never be quite the same. I will always remember the pain and the hope that I came to understand during that week. Amie and Joy were the only students attending the conference and for four days they were literally adopted by the world. Their presence at the conference was a source of hope for many of the attendees. While I have always known it, I became genuinely aware that I still have a lot of learning to do and I am grateful there are students out there willing to teach me.