Twenty-one BPD annual conferences give us a special reason to celebrate and participate! Our theme addresses one of the core issues of social work practice: social and economic justice. Over 150 papers, workshops, and idea exchanges have been accepted for presentation, so expect a great program.

Preconference Workshops
The Fourth Annual Excellence in Leadership pre-conference workshops, sponsored by Rutgers, The State University of New Jersey, are being held on Wednesday October 29th for new and experienced program directors. We will also be offering pre-conference sessions on group work, aging, funding opportunities, and field. Some of these sessions have a materials fee. Please see the pre-conference program for details.

Opening Plenary
The University of Tennessee sponsors the Opening Plenary on Wednesday evening. Dr. Tony Platt, California State University, Sacramento, was selected as this year's plenary speaker. His presentation is titled "The State of Welfare: Crisis and Challenges."

Dr. Platt has published several books and articles in the areas of U.S. history, race relations, and social policy.
Ron Federico Memorial Lecture
The Ron Federico Memorial Lecture has contributed tremendously to the BPD Annual Conference since its inception and this year will be no exception. Dr. Dean Pierce of the University of Nevada, Reno has been selected as this year's presenter. The presentation, "The Changing Style of American Discourse: Implications for Social Work," challenges social workers to examine contemporary communication trends that serve to camouflage, not clarify meaning and convey authoritarian, not democratic values.
Don't Forget to Bring or Mail in Items for Inclusion in our Live Auction
The "Silent Auction" is silent no more! Since the live auction has been so successful over the past two years, we have decided to try a totally live auction this year. Please start planning now to bring items to contribute! Popular items in the past have included consumables, such as wine and food baskets, local/ regional items, and textiles. If you want to ship your items ahead of time, please send these to: Denise Montcalm; University of Nevada, Reno; School of Social Work; Mailstop 090; Reno, NV 89557. Remember, proceeds from this event help fun the Ron Federico Memorial Lecture series.
Program/Schedule Change
In an effort to include as many members as possible, the annual BPD Business/ Membership meeting has been moved from Sunday morning to Saturday afternoon from 4:30 until 6:00 p.m.
Conference Hotel
The Conference Hotel is the Reno Hilton. Housed in the shadow of the Sierra Nevada Mountains, it has become one of northern Nevada's most complete destination resorts. A stay in one of their 2,000 rooms offers access to premiere restaurants, headline entertainment, family-friendly activities, and endless recreation. After-hours and family activities include: a 50-lane bowling center, golf, thrill ride, go-kart race tracks, FunQuest video game and laser-tag center, shopping, 10 dining options from fast-food to sit-down, and a nightclub. The hotel rooms feature hair dryers, video-on-demand, voice mail, clock radio, and iron & ironing board.
Parking
For those of you who will be driving to the conference, the Reno Hilton offers plenty of free, onsite parking.
Airport Shuttle Service
The Reno Hilton is located 5 minutes from the Reno/Tahoe International Airport. A complimentary shuttle is available from the airport every thirty minutes (on the hour and half hour). Shuttle service to and from the hotel is provided between 5:00 a.m. and 11:00 p.m., seven days a week.
Jim Wahlberg Walk/Run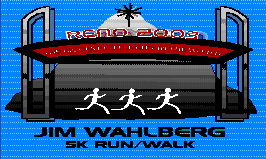 Don't forget to register for the Jim Wahlberg Walk/Run event. This year the course will be within walking distance of the hotel and will be along the river walk. Participants are asked to register in advance. Registration forms are available online (bpdonline.org) and at the Conference Information Desk.